Discussion Starter
•
#1
•
316 with 50" mower, 54" blade, 5' Lime Feeder, Single Bottom Plow and 3 Point Hitch
316 with 50" mower, 54" blade, 5' Lime Feeder, Single Bottom Plow and 3 Point Hitch (Installed).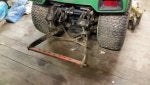 1987 John Deere JD-316 $1,200.00 Onan P218G engine replacement, rebuilt hydrostatic pump, newer front tires, new fire wall. - 1,650 Hrs

50" Mid-Mount Rotary Mower $300.00 Some cracks, weld to fix.

Extra Sets of Mower Blades $0.00 Goes with Mower Deck Sharpen and use.

54" Front Blade $300.00 Plowed lots of snow in NE Ohio.

Ice/Snow Chains $0.00 Goes with Front Blade, Chains are used and serviceable.

Single Bottom Plow $150.00 Works well with 3 point hitch.

3-point Hitch and Draw Bar goes with Tractor

All guards and covers intact.

---- All in working order. ------ $2,100.00 Asking $2,000 cash for all as bundled sale.​