I purchased an Agria tractor with a B&S engine and a Peerless / Tecumseh 3-speed transmission. It was standing in a backyard for several month. The engine was not running and the transmission is (still) leaking.
On my holidays I cleaned the whole tractor and disassembled the engine and carb, ground in the valves, set up valve clearance and carburetor.
Agria 4600 - 11 HP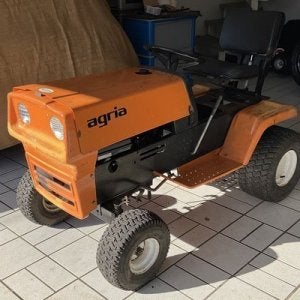 Briggs motor before disassembly
Refurbished and ground valves
All enginge parts including new seals and sealing rings
Back in the tractor
My next job is to overhaul the transmission. -> leaking and sounds strange.
Maybe I have to cut the gaskets by myself. They are only available in the US.