Discussion Starter
•
#1
•
It has been a few years that I have had this project in my head. I have wanted to try a center blade for the 317 or 214 but can't justify the cost of a Deere 54C or 43C. I have seen some threads of people that built their own, but those are either lacking in pictures or got lost in the site crash. With the decision to build my own, I just had to find a blade to use for this project. This is where the couple year delay has been. I didn't want to spend much on a good blade that would get cut-up. This weekend while visiting a buddy I was able to pick up a snowplow for the L100 series mowers for $10. I have no before pictures but started after I cut the blade in half. Here we go with what I have so far:
I cut the blade exactly in half with the intentions of making the blade wider if needed. It is 46" wide so it will be close. This leaves the blade 6" tall.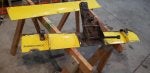 Here is what I am working with for the frame/swivel. I had to cut about 1" of the plate that bolts to the plow off which means I will have to drill new holes to mount the top.
I removed the mount to make drilling the holes easier.
Since I wanted to stay with the carriage bolts I drilled the plate the diameter of the threads and then the plow a size between the square shaft of the bolt and the diagonal of that square. Then I just used the impact to sink the carriage bolts in.
The impact broke one of the carriage bolts so I had to replace it, but it is bolted on and done with that part.
The spring trip was taken off since it wasn't needed and I don't have room for it. I welded the mount to the plate and that took away a lot of the slop that was existent from the original setup.



I didn't have enough angle iron for this so I got to working on the rear mounts. Using the same mounting points as the original blades, I made a very simplified version out of some 3/8" flat stock. These turned out very well and bolted up to the tractor nicely.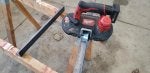 I got a 4' stick of angle iron from the local farm supply store. Usually I go to the steel supplier but it was a sunday and for such a small piece it wasn't worth waiting around to save a couple bucks. This is 1 1/2" x 1/8" angle and I got 4' of it for this project.



I cut about 3" off of the black frame because with it sticking farther back it would have contacted the hydro tube when raised on the 317. Then I welded the piece of angle to this. That gave me a 12" wide frame that I can easily run more angle back to the mounts.



Here is a test fitting of the frame. The pieces that go back are 17" long. I used a scrap piece of 1/2" square tubing to brace the back side.



I welded in some thick "bushings" that the mounting bolts will ride in. This isn't what I wanted to do, but I didn't have a 1" drill bit to make a proper bushing a pillow block of sorts to use. I am hoping that if anything will wear out on this it will be the bolts which is an easy and cheap replacement.



Here it is bolted in. Getting things lined up just right so the bolts slide in isn't bad at all. Having the tighter hole sizes makes it a more rigid mount with almost no play.



When I first decided on this project years ago I had been saving a pair of mower deck lift straps to use. Of course now that I have finally got the project in motion I can't find them. I may have sold them to someone who needed them more than I at the time. For now a ratchet strap is used for testing the lifting. Once I can find some reasonably priced lift straps I can get this finished up and I will update this thread.



Here is the blade lifted off the ground. I would like to get another inch or two of clearance but that will get solved when I have proper lift straps.



Here is the blade angled. It has clearance between tires and surprisingly it is just wide enough to cover the tracks when angled. I may still add extensions some day. Also I will add a piece of angle to the top of the blade for more rigidity and to cap off the sharp corner but until I decide whether or not to add the extensions I will leave it off.

Hopefully this can help someone out with their project and maybe inspire another to make their own center blade. I will get this thread updated whenever I can get the lift straps. I do worry about how well this will dig since the blade is very lightweight. I may have to look into a down pressure system. I know chuckv made some down pressure springs for his home made blade, but those posts got lost in the site crash.

For those wondering, the welder I have is the Vulcan OmniPro 220 from Harbor Freight. I have been nothing but impressed with this machine. I am not a great welder but this machine will let me run some solid beads. I have a die-hard Miller friend that talked nothing but crap about this machine until I had him come try it out. He said he may just get one of the Vulcans instead of a Millermatic since he is in the market.

Ryan

[SUB][SUP]
[/SUP][/SUB]
​