Discussion Starter
·
#1
·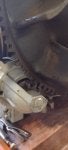 So, this is the culmination of my previous post about shimming a starter. This is a new starter. After I installed it, the vet first time I turned the key, it sounded exactly the same as before, like a brass wrench in a blender.
This is on a 1990 318, that cranked perfectly, until I pulled the starter for other maintenance. There was a random washer that fell out when I first removed the starter. However, I certainly couldn't tell which side, or if it had even come from the starter for certain. That washer was very thick, nearly 1/8". That seemed entirely too large to have come from the starter, especially since there was only one. After the maintenance, I put everything back as it was, so I thought. the engine cranked and ran like a sewing machine, but I had to run the wrench through the blender to get there.
I pulled the engine and starter to inspect, and test. The starter turned fine, but the pinion wouldn't fully extend. So, I figured that was the problem.
I bought a new starter to get me running until I could try to repair the old one, and here we are. The tractor has only been cranked four times since the overhaul, and the flywheel looks pretty mangled.
Looking for advice, solutions, consolation, and donations, anything I can get.
I'm pretty heart broken at the moment. I only need her to get through 6 more weeks or so, until I can do a complete tear down and rebuild, which was the plan.
I fear that I'm going to have to pull the flywheel and replace the ring gear before I can get past "go". When looking at it, it looks as if the pinion teeth will barely engage, even if I flipped the ring gear.