Discussion Starter
•
#1
•
Salvaged a complete (well, important/expensive parts ) hydraulic lift from a group of 200's I recently acquired. I've gotten to the section on mounting the pump, two issues so far. Missing the rectangular spacer that sits on top of the motor mount, below the pump. Is there a specific purpose for the shape? What are the dimensions?
Next, the hole in the pump bracket, that mounts on the motor mount, is about the size a quarter. The nut and bolt that are depicted to mount this are 9/16" and simply pass through the hole. The exploded view and instructions say nothing about an additional washer to allow the correct nut/bolt to hold the pump bracket.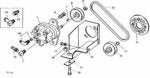 I can certainly find a washer. Am I missing something???